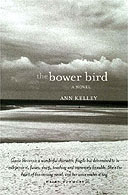 Recommended reading age: 12+
Ann Kelley's books about Gussie (Augusta) Stevens deserve, in my opinion, to be much, much better known and much more widely read.
Gussie, aged twelve, is waiting for a heart and lung transplant. She suffers from pulmonary atresia, which means that her blood is insufficently oxygenated and her skin, as a result, is purple or sometimes even blue. She has difficulty walking very far and she can't go to school in case she picks up an infection.
But Gussie's life is as far from dull and restricted as it's possible to be. She lives in St Ives with her mum and is a keen (and amusing) observer of all the human, animal and birdlife in and around the town. She has three cats, including Rambo the Terrified, who runs for cover every time someone stands up. From her attic room, Gussie watches the herring gulls nesting and bringing up their young - including the one who stubbornly refuses to leave home. 'Only a parent could love an adolsecent gull,' Gussie comments. We also hear about the lizard in the terrarium - the one with SED (sadistic eating disorder), which Gussie eventually sets free because she can't bear to see him slowly work his way through any more half-alive grasshoppers.
Gussie is funny. Her story is unbearably moving at times, partly because it's told without sentimentality or self-pity. Gussie is pragmatic. She may only have a year or so left to live, so she's determined to make the most of every moment.
She tells us about Brett, the young Aussie guy she's fallen in love with. We hear a lot about Mum, who capitalises her words, saying things like: 'There's Nothing Wrong with Mouse' [the colour of Gussie's hair]. Mum, apparently, is not very good at talking to Gussie, except to tell her not to do things. As adult readers we get telling glimpses into the life of Capitalising Mum - and just a taste of what it might be like to have a daughter like Gussie to cherish and worry constantly about. Mum has managed to provide her daughter with the perfect environment for her personaility and condition. Dad, a photographer and film-maker, has left them for TLE ('The Lovely Elise') and lives in London. Gussie is keen to trace her family on her dad's side. There are lots of Stevenses in St Ives and we see her start to get to know some of them and discover family connections.
Gussie's descriptions are so apt and beautiful they sometimes hurt. How about (from p.18): 'The sea is hammered pewter and the low waves are mercury creeping up the beach'? Too precocious and 'poetic' to come from a 12-year-old? Well, no - not if you read it in context. Gussie's voice is very much her own. An unusually clever and well-read 12-year-old, yes, but a 12-year-old just the same - ordinary (in many ways), likeable, outgoing, curious about everything. How does Ann Kelley do it? Perhaps, when I read this book for the fourth time, I'll finally get down to studying her technique, rather than simply being enthralled. Perhaps...
Gussie is now on my own personal shelf of favourite characters from books. She's up there with Moomintroll, Just William, Jo March, Dorothea Brooke, Holden Caulfield, Paddington, and Ramona Quimby. Characters I Would Like to Meet and Be Best Friends With...
There are four Gussie books. At the end of this one,
The Bower Bird
, a set of heart and lungs becomes available and Gussie is rushed off, at Christmastime, to hospital in London to have her transplant. In the next one,
Inchworm
, we hear from Gussie about the transplant and its aftermath. And in the fourth one,
A Snail's Broken Shell
, she tells us what it's like finally to have pink skin and be able to go to school
.
As you might expect, she has many new challenges to face. She also meets the family of the young woman who died, whose heart and lungs are now working inside Gussie's body. Here Ann Kelley's touch, as always, is perfect.
The Bower Bird
was a category winner in the 2007 Costa Book Awards, and it's not difficult to see why. What I don't understand is why these books aren't more widely known and read. They have much to offer to both youngsters and adults. They are absolutely not 'aimed at' youngsters with heart problems, though they might well have particular relevance to such young people and their families. But they are quietly funny and their observations of parents and grown-up life (as well as seagull life) are spot on.
My copies are getting tatty. Need I say more? Please read, enjoy and recommend them widely.
Publisher:
Luath Press Ltd (10 May 2007)
ISBN-10:
1905222793
ISBN-13:
978-1905222797
View 'The Bower Bird' on Amazon UK
Happy reading,
Ros
My blog, Rosalie Reviews
My Facebook Author Page
My webpage
Follow me on Twitter @Ros_Warren
Return to
REVIEWS HOMEPAGE