This beautiful book offers a rather special story imparted in words and pictures. I love Peter Brown's Mr Tiger Goes Wild picture book and had assumed that this would also be a picture book. But it isn't. It's a middle grade story told in bite sized chapters. It's fresh and different and exciting and thought-provoking and funny and wonderful.
Peter Brown himself calls this 'a robot nature story', and that's exactly what it is. It has the appeal of both those elements, but they together become so much more than those two topics as they interact.
Robot Roz is washed ashore on a remote island, and activated by playing sea otters who push a button. Her awareness of herself and life begins there, so everything is new and to be learned about. The animals on the island are frightened of her until she can assure them that she isn't interested in eating any of them. But then tragedy strikes because she does kill, but by accident. Falling out of control, she crushes mother and father goose and most of their eggs. But one egg remains that Roz now feels responsible for. With help and advice from others, she becomes the successful, if unlikely, mother to a gosling. I'm not going to do a spoiler on more of the story, but will say that it includes facing the winter separation as Brightbill flies south, and it includes a really exciting fight to the death between robots that doesn't end as you might guess that it would.
The story is charmingly told in a rather old-fashioned style that sometimes personally addresses the reader, but the prose is crisp and fast-moving as it enjoys both beauties and harshness of nature, and the increasingly human character of robot Roz as nature feeds her knowledge banks. The retro style pictures are simply beautiful.
I think this would make an ideal book to read in class to children of Years 2-4. Do be aware that it addresses death and killing as well as love and friendship, loyalty and imagination and survival. Book Two is on its way.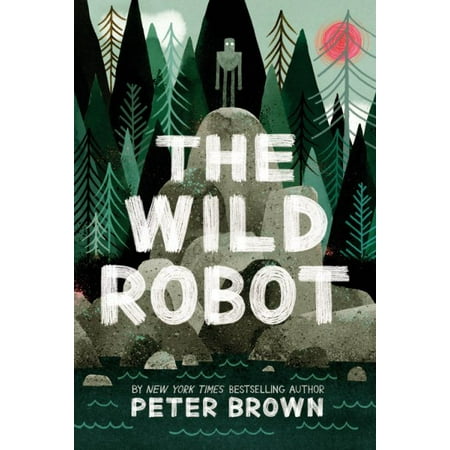 Return to
REVIEWS HOMEPAGE